Meet Dave From Pacific West Home Inspections
Dave Brice, owner of Pacific West Home Inspections Inc. is the leading home inspection company of choice as the only full service building inspection company that has been proudly serving local and global clients since the early 1990's.
As your personal, certified building consultant, my priority is to provide you with unsurpassed professional service's and the best inspection report that exceeds well beyond any Canadian industry standards. I take care of your best interest and dedicate my expertise to serving and representing only you with integrity, professionalism and honesty with high ethical values.
​
I will provide a clear, unbiased evaluation of the buildings condition quickly and easily. I will answer any questions you may have, provide you with a in-depth detailed narrative report with photos of the overall structure, mechanical, safety, condition of appliances, any visible mold, water/moisture issues, identify asbestos materials, and much more, of which once the report is completed is emailed the same day with after service support.
​
The difference between me and other so-called inspectors is that I'm certified. Not all home inspectors in British Columbia are certified.. Other home inspection organizations in B.C. offer a trade-marked "registration number" to their home inspectors with "in-house" qualifying exams. Only ASTTBC members are certified as "Home Inspectors" under Provincial Legislation and must be licensed through the Consumer Protection of B.C.
Over 30 Years of Construction Experience
Over 25 Years of Residential & Commercial Building Inspections
Certified Master Inspector
Certified Residential Home/Property Inspector
Certified Commercial Building Inspector
Certified Registered Reserve Fund Annilist
Certified & Approved CPBC Home Inspector Trainer & Evaluator
Over 15 Years of Solid Fuel Appliance & Chimney Inspections
Certified Residential Indoor Air Quality Investigator
Certified WETT Inspector
Certified Asbestos Investigator
Certified Mold Investigator
Certified Residential Roof Inspector
Certified Commercial Roof Inspector
Radon Measurement Service Provider
Oil Tank Investigator
Certified Home Energy Inspector
Building Envelope and Moisture Control Certification
Various & Numerous Certifications
Continually Educational Upgrading of Building Science Technology
Current Building Standards, Practices & Code Requirements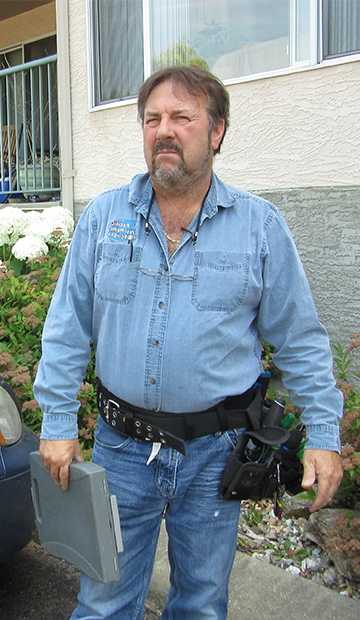 Residential Building Inspections
Commercial & Light Industral Building Inspections
Strata Building & Property Reserve Fund Reports
New Home Construction Phase Inspections
New Home Warranty & Deficiency Inspections
Insurance Claim Inspections
Solid Fuel Burning Appliance & Chimney Inspections (WETT)
Indoor Air Quality Assessment & Investigations (CMHC)
Indoor Air Quality Testing for Mold & Allergens
Asbestos Materials Assessment, Investigation & Testing
Radon Testing
Grow-Op Inspections
Oil Tank Inspections
Pre-Blasting Inspections
Home Energy Evaluations
Property Securement, Foreclosure & Project Services
Building Renovation Consulting Services
Discreet Estate Inspection Services
Kamloops and area including Merritt, Logan Lake, Lillooet, Barriere, Clearwater & Chase
North Okanagan including Vernon, Armstrong, Lavington, Lumby, Falkland & Enderby
Central Okanagan including Kelowna, Winfield, Oyama, West Kelowna, Penticton, Ossoyas, Princeton& Peachland
Shuswap and area including Salmon Arm, Sorrento, Sicamous
Revelstoke, North Shuswap, Golden, Nakusp & Kootneys
Southern, Northern, Eastern & Western British Columbia
Vancouver Island & Queen Charlottes
Western Alberta & Yukon
Please us toll free at (866) 966-8751 if you live in other areas as no all locations are listed.