A Residential Inspection Can Help Inform You On The True Conditions Of The Building, Make The Right Decision And Minimize Costly Repairs.
At Pacific West Home Inspections, you will receive the following professional service and more:
A Licensed Building Consultant Certified By ASTTBC With 25 Years Experience.
Will Spend Several Hours On Site Documenting Present Conditions.
Examine All Aspects Of Construction, Structural, Mechanical, Safety & More.
Document All Visible Issues And Provide A Narrative Report With Photos.
Fully Explain The Details Of The Report And Answer All Your Questions.
As your personal consultant, my priority is to provide you with unsurpassed professional services. I take care of your best interest and dedicate myself to serving and representing only you with integrity, professionalism, honesty and with high ethical standards. A close examination made by a expert can save you a lot of trouble and give you the much needed peace of mind with the reassurnace your making the right choice.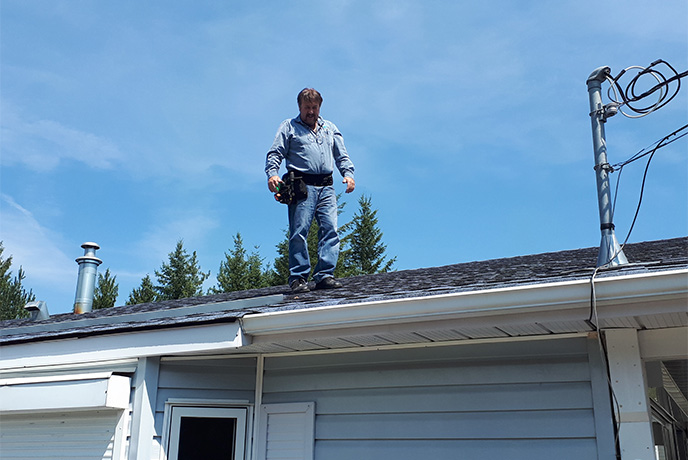 To Book Your Inspection Or For More Information,
Call (250) 833-8955
What We Inspect
Various type of houses
Single and multiple dwellings.
Townhouses.
Mobile & module homes
Condos.
Apartments.
What's Covered In An Inspection?
The following are some of the systems and components (items) that are inspected and reported on during the course of the inspection. These items are examined for material defects that would significantly affect the value, desirability, or safety of the home.
There are thousands of items that are observed and inspected. These findings will be documented for you, using plain language, in one of the most descriptive reports available.
Foundations, basements and underfloor areas including but not limited to: foundations and support components; ventilation; insulation; access openings; wood separation from soil; drainage and sump pumps; seismic anchoring.
Building exteriors including but not limited to: surface grade; landscaping; site drainage; wall coverings; doors and windows; attached decks and balconies.
Roof coverings including but not limited to: roof coverings; flashing; vents; skylights; roof penetrations; and roof drainage.
Attic areas and roof framing including but not limited to: framing and sheathing; access openings; insulation and ventilation.
Plumbing systems including but not limited to: supply waste and vent piping; fixtures, faucets and drains; water heating equipment; functional flow of water supply and functional drainage at fixtures; gas piping and connectors.
Electrical systems including but not limited to: service conductors; equipment and capacity; panels and over current protection devices; service and equipment ground wiring, switches, receptacles and light fixtures.
Heating systems including but not limited to: heating equipment; venting systems; combustion and ventilating air; energy sources and connections; condensate drainage.
Central cooling systems including but not limited to: distribution systems; energy sources and connections; condensate drainage.
Fireplaces and chimneys including but not limited to: chimneys, flues and dampers; fireboxes, hearth extensions and accessories; solid-fuel and gas burning appliances.
Building interiors including but not limited to: walls; ceilings and floors; security bars; ventilation; doors and widows; stairs; railings; cabinets and counters; safety glazing; appliances.
Attending the Inspection
It is not necessary for you to be present for the inspection, but it is recommended. You will be able to observe the inspector and ask questions directly, as you will learn about the condition of the home, how its systems work, and how to maintain it. Or arrive near the end of the inspection to go through a final walkthrough and discuss findings.
Length of the Inspection
The average inspection takes about three to five hours depending on the size, conditional issues and age of the home & property.
Inspection Report
The complete inspection report is computer generated and easy to understand (narrative with photos). Enclosed in the report is a two to six page report summery, that highlights important findings by the inspector and/or general comments on the building systems. Included is detailed information about the building characteristics, utility services, exterior, foundation, basement, roof system, plumbing system, heating – air conditioning, electrical system, interior, garage – carport, kitchen – appliances – laundry, bathrooms and grounds. There are also many pictures included to point out important findings or to show a certain system of importance that might need immediate or future attention. Included in the report is the inspection contract. After the report is completed it will be E-mailed immediately that same day in the evening or in some cases the next day depending on the length of the inspection.